Event: CropBooster-P showcased at Euroseeds Congress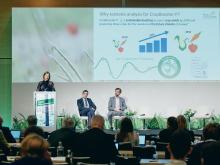 The CropBooster-P Project was showcased at the Euroseeds Congress that took place from 13-15 October 2019 in Stockholm, Sweden. This year's event set a new record of presence, with an attendance of more than 1100 participants from almost 50 countries across the world.
CropBooster-P was presented during the congress meetings on October 13 in a session entitled: How scenario planning can help shape successful research strategies. This session included talks by Aleksandra Malyska (PlantETP) and Axel Sommer (SOMMERTRUST). CropBooster-P was also presented to the participants with a poster in the exhibition area, together with other EU funded projects, during the whole congress.
More information on the congress: https://www.euroseeds.eu/news/euroseeds-2019-an-outstanding-congress-with-a-new-record-of-presence/