Press release: Publication in Biotechnology for tomorrow
Four scenarios for the future of biotechnology
European researchers involved in the CropBooster-P project have developed four contrasting scenarios for the future of biotechnology. These scenarios take into account several trends in politics, society, demography and the environment. Such scenarios can help to maximize the output of biotechnology investments currently made, since they allow to anticipate for future socio-economic needs.
The CropBooster-P project is the response to the H2020 call "Future proofing our plants" and aims to prepare crops for European future needs and climate. To do so, some of Europe's most respected plant science institutions and stakeholder organizations are jointly drafting a roadmap to direct future plant research. More specifically, they aim to double European agriculture crop yields by 2050, with a related increase in nutritional quality and sustainability.
To anticipate the biotechnological landscape of tomorrow's world, four scenarios with a 2050 time horizon were developed ('Bio-innovation, 'My Choice, 'Food Emergency' and 'REJECTech') by taking into account a multitude of current trends, including developments associated with politics, society, demography and the environment. In a next step, the implications of the different scenarios on agriculture, consumers and Europe's options to future-proof its plants were assessed.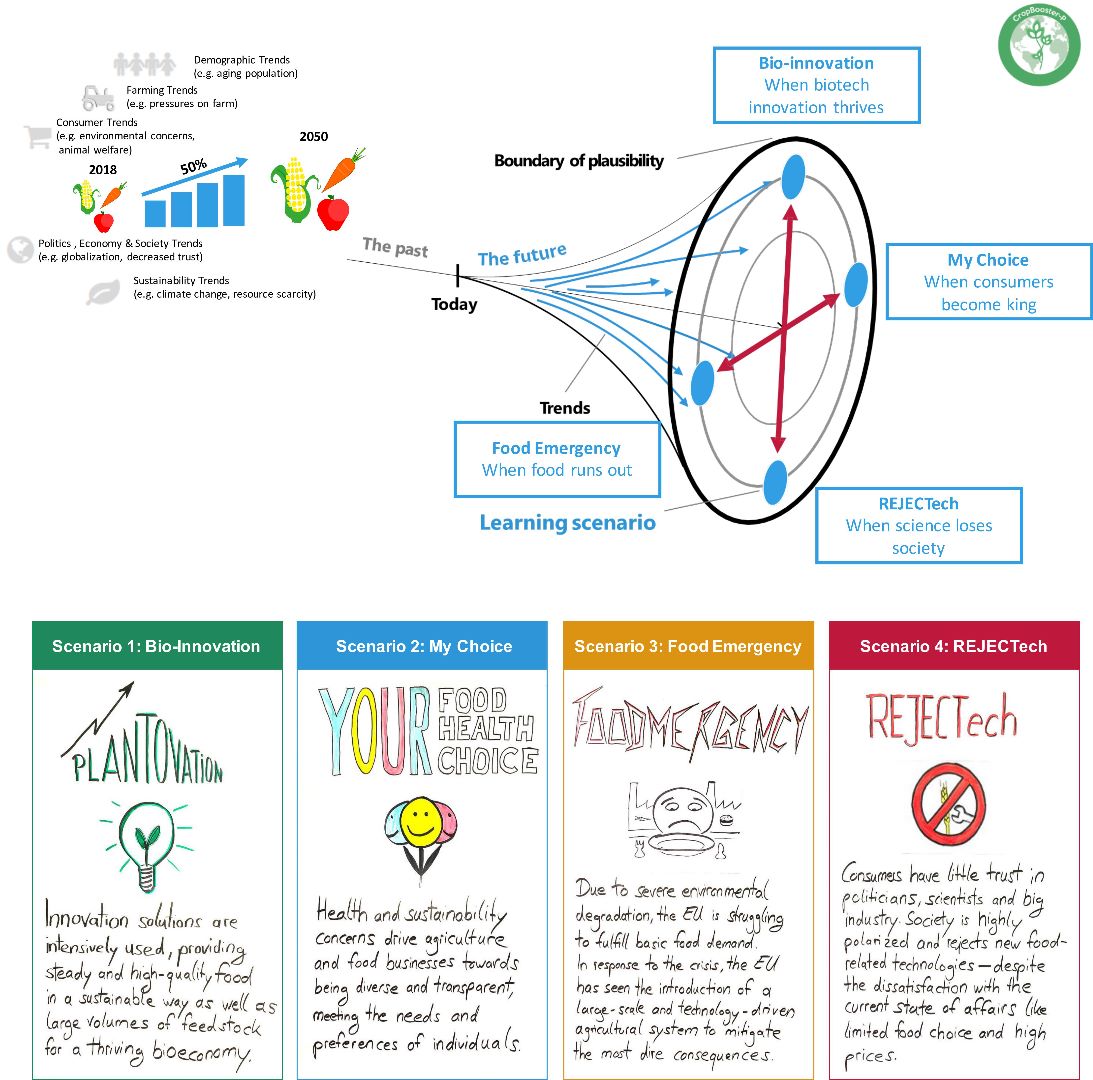 Martin Parry (Lancaster University, UK): "These scenarios are very helpful in developing a future roadmap for crop breeding. They highlight both the opportunities that technological advances can give us, as well as the constraints we face if we decide to disregard them."
Dirk Inzé (VIB-UGent Center for Plant Systems Biology): "The analysis showed that the impacts of the four developed scenarios mainly differ in the extent to which society will accept biotechnological methods."
Alexandra Baekelandt (VIB-UGent Center for Plant Systems Biology): "If genetic modification and synthetic approaches would not be accepted by the public at large, as is the case in a 'REJECTech' scenario, innovations to improve crop productivity would be time-consuming and limited and almost certainly will not enable us to meet our crop productivity demands in time."
René Klein Lankhorst (Wageningen University, the Netherlands): "A 'My Choice' scenario, which is the most consumer-driven scenario, is likely to co-occur with the emergence of a flourishing bio-economy and environmental concern-based choices might be dominant. In addition, this scenario might offer great opportunities for the production of personalized food."
The development of 'future world' scenarios, together with a better interaction between society, academia and other stakeholders such as farmers, is crucial to maximize the success rate of the implementation of biotechnological research in our daily lives. This accounts for biotechnological research in agriculture, as well as in medical and industrial biotechnological research that is currently being performed.