Invitation to journalists, NGO's and science to participate in communication survey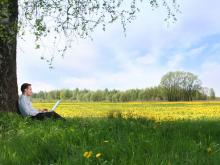 Communication is essential – journalists, NGO's and science are invited to participate in our communication survey
The public dialogue about genome editing in plant breeding has multiple actors in Europe. We invite journalists, consumers and environmental organisations as well as scientists to take part in our survey. With this survey we want to understand how the dialogue on plant breeding and genome editing is progressing in Europe and how projects from plant research can contribute.
The survey is available in 9 European languages. Click on this Link, select a language, and please take 12-15 minutes to complete it.
The Julius Kuehn-institute, the Federal Research centre for cultivated plants in Germany, is responsible for the survey. The results will be published here on the CropBooster website at the end of 2021.