Register now for Planet to Plate: three-day event organised by University of Sheffield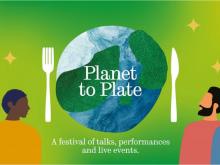 The Planet to Plate programme will illustrate the power of collaborative research to address the grand challenges of food security and sustainability at all scales, from the planetary (global) to the domestic (household) scale. Much of our research involves collaboration across disciplinary boundaries including innovative work with visual and performance artists.
The Planet to Plate festival is a celebration of our work, exemplifying its transformative potential to address some of the most urgent challenges in 'feeding the world', now and in the future.