Exploring the potential of the NPEC facilties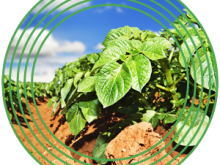 Developing a roadmap for the introduction of new crop varieties in current agricultural practice is an important goal of the CropBooster-P consortium.

Plant phenotyping is the game changer that will vastly contribute to these goals. The NPEC facilities offer automatic phenotyping which allows for a dramatic increase in the speed of plant breeding. Check out the promotion video which invites the plant research community to exploit the full potential of NPEC.
https://www.npec.nl/news/nwa-invitation-to-explore-the-potential-of-npec/